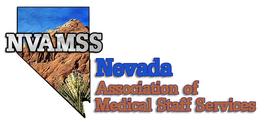 The Nevada Association Medical Staff Services is committed to the delivery of quality healthcare by the professional development of individuals who work in the medical services arena.
NVAMSS Goals:

Augmentation of professional knowledge through networking sessions and fellowship with peers.
Promotion of individual growth and career advancement potential.
Organization of formalized workshops and educational programs.
Improvement of understanding accreditation standards, federal law, state and local regulations.
Enhancement of credentialing process on federal, state and local levels.
Build enthusiasm and confidence for all Medical Services Professionals who participate.
Collaborate with state medical society, medical board, hospital association and other organized professional groups on current issues.